$7 flat rate shipping across Canada, buy 2 Bottles and get FREE SHIPPING (within Canada)

Bliss Facial Serum is an incredibly moisturizing and healing skin remedy beyond all other facial skin creams and lotions – offering total absorption into the skin to create softer, more hydrated skin, immediately.

This serum quenches and protects dry skin, addressing both wrinkles from age and sun damage as well as a variety of skin conditions. It's the perfect under-layer for daytime, and is a healing and smoothing serum for night. Great for sensitive skin too! Add it to your beauty and cosmetics line.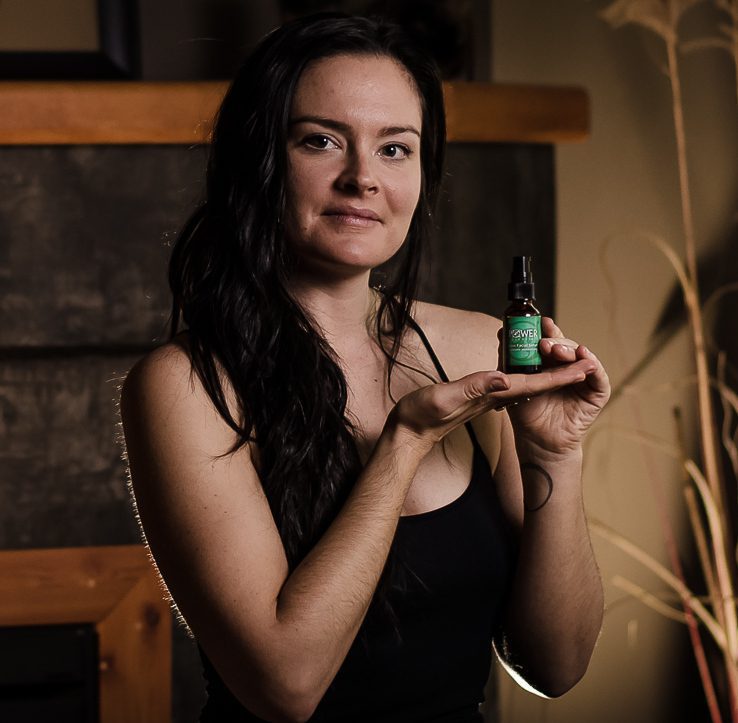 Why did I develop the Bliss Facial Serum?
Some years ago, I noticed that – once I hit a certain age – the facial moisturizers I used stopped working for me. All the "natural" moisturizers and skin creams I tried just would not sink into my dry skin. Even if they were handmade and organic! Products would often dry on top of my cheeks, causing a slight & yet irritating pull on my skin. With my years working as a biologist, and after becoming certified as an aromatherapist, I knew the facts, and knew that I had to create a serum!
Bliss Facial Serum gained a dedicated following among my massage clients for its consistent effectiveness and stunning aroma. I had so many requests to purchase it, I finally developed for professional sales!
Extreme Moisturizer & Healing Face Serum
BLISS FACIAL SERUM hydrates better than all other face creams we've tried. It returns your skin's health and natural glow, and is a remedy beyond all other face creams and lotions. This serum absorbs immediately, quenching dry skin, smoothing fine lines and wrinkles, calming redness and irritations, and protecting you from damage, all while taking care of your sensitive skin. Bliss is perfect during the day under your cosmetics, and perfect bliss as a night serum.
CERTIFIED AROMATHERAPY – Few products on the market today are actually formulated by professionals who have studied and really know essential oils. As a Biologist and Certified Aromatherapist, I know the therapeutic effects of these concentrated herbal remedies and, the art and balance of blending – quantity and aroma essencing. Only the highest quality organic essential oils are used, making the difference in its effectiveness and its truly exquisite aroma. Expeller/cold pressed carrier oils form the base and deeply penetrate into the skin.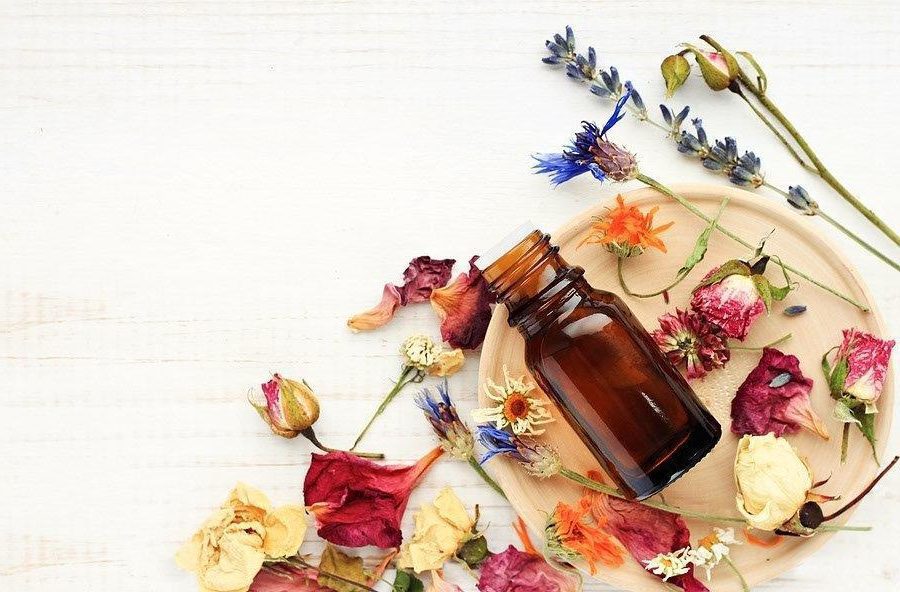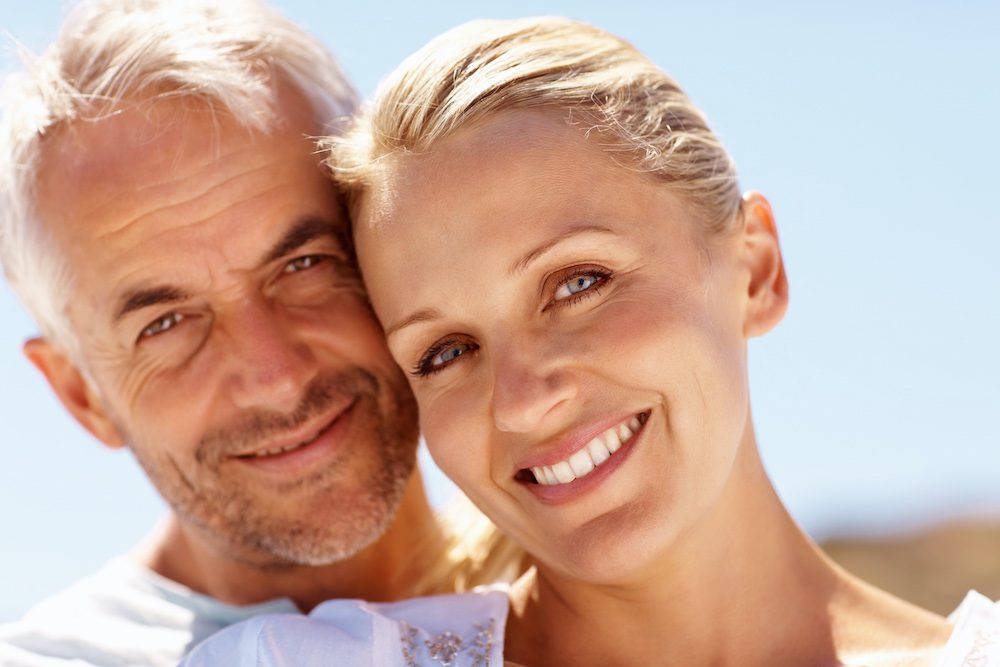 This original Bliss Facial Formula is balanced around organic nourishing Neroli, steam distilled from the orange blossom. Neroli is renowned for its therapeutic effectiveness for most skin conditions. "Mildly hypnotic" in aroma, neroli settles the spirit bringing inner and outer harmony.*
$7 flat rate shipping across Canada, buy 2 Bottles and get FREE SHIPPING (within Canada)
What Are The Health Benefits & Aging Benefits of Bliss Facial Serum?
Promotes Cell Regeneration – Stimulation of the growth of healthy skin cells is needed daily and especially if skin is wounded, burned, scarred. Growth of healthy cells can be prioritized.
Deeply Penetrates – Absorption into the skin needs to penetrate deeper than the exfoliating layer (epidermis). Sinking deep into the skin layers, healing remedies are delivered.
Retains Moisture – A lovely thin protective layer is smoothed over the skin, keeping moisture in and reinforcing your skin's own protective barrier without obstructing pores.
Anti-Inflammatory – When skin is inflamed, inflammatory mediators within the body cause dilation or widening of small blood vessels in the tissue in order to bring more circulation for healing. Often skin will have reddening and feel hot. It's a rapid response by the body, which can be balanced to decrease the effects of the over inflammatory response.
Anti-Aging – As skin ages, it loses the production levels of collagen, ealstin, & other structurally important molecules which then contribute to wrinkles and sagging . Improving the elasticity of skin will help to keep a youthful appearance.
Skin Cancer Help – cells can over – grow uncontrollably and keratosis can be a precursor, often rough and red. These conditions might be allayed.
Improves Elasticity – As skin ages, collagen (which contains elastin) becomes more firm. Elasticity of the skin contributes to its supple plumpness. Skin can be revitalized, toned & nourished to increase elasticity.
Calms Redness & Red Spots – Again inflammation can result in redness, and anti-inflammatory qualities will be soothing.
Acne – Sebaceous glands over-produce sebum which can get trapped along with bacteria and dead skin cells. Oil balancing, antiseptic help and scar prevention may occur.
Dermatitis – this is a word used to describe many types of skin irritations causing inflammation. Dry skin, rashes, redness and itchiness are typical. Anti-inflammatory and sometimes antiseptic qualities can ameliorate.
Eczema – Skin will be scaly & fissured and is usually itchy, and may be "weeping". Contact dermatitis is a type of eczema. Anti-inflammatory qualities can soothe.
Psoriasis – Dull red patches will have extremely tiny bleeding points under psoriasis "scales". Anti-inflammatory qualities can soothe.
Roseacea – Dilation of capillaries, caused by acute or persistent blushing, can occur in the middle areas of the face, as well pimples, tissue overgrowth ,and infection can result. ". Anti-inflammatory and anitseptic qualities can bring some relief.
Scar remedy – regeneration of healthy skin cells can be promoted
Burn remedy – regeneration of healthy skin cells can be promoted
Reduces Wrinkles – As skin ages, its collagen network loses elasticity, due to the decreasing production of both collagen & elastin. Skin can be revitalized, toned & nourished to increase elasticity.
* West Coast Institute of Aromatherapy Manual, Beverly Hawkins, 1999. 2002, westcoastaromatherapy.com
* The Complete Guide to Aromatherapy, 3rd ed, Salvatore Battaglia, 2018
* Aromatherapy for Healing the Spirit. G. Mojay, 1997
* Seventh International Conference on Jojoba and its Uses : Proceedings ed A R Baldwin 1988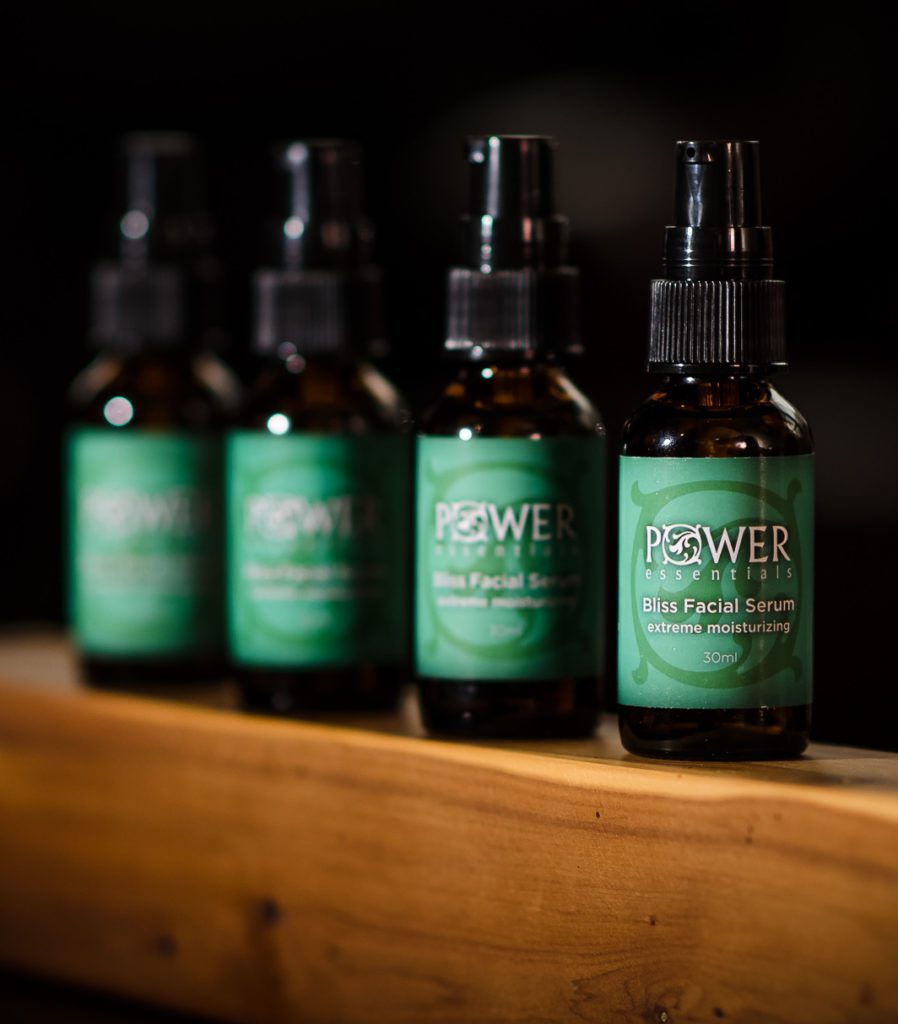 Bliss Facial Serum is "green", eco-friendly, and truly completely natural! Created with care in small batches on Salt Spring Island, BC. Add it to your beauty and cosmetics line!
Danielle is the creator of the very best facial oil and I have tried many, expensive ones too!

My facial skin is super sensitive , once applied I feel smooth, nourished and I'm wrinkle free at age 69. I first met Danielle in Ganges about 9 years ago. Her treatments are also amazing.

An outstanding , gifted human. 

– P. Reid
 The facial serum is a favourite blend that my skin LOVES. Having tried so many other options for skin health- Im now hooked on this one. (and am consistently recommending to friends)  It is subtle and uplifting. 

- Kim Murray, Salt Spring Is , BC.


I am an active middle aged woman who has spent a lot of time outdoors before sunscreen was available. Prior to using the Power Essentials Bliss Facial Serum I had sun damage on my face and chest. I also had the not so lovely brown age spots on my hands and arms. I have been using the oil for one and a half years now. I am so pleased with the results I continue to get. The sun damage on my face and chest is pretty much non-existent. The brown age spots on my hands and arms have faded however I have not been as diligent with the oil on these two locations. I have tried many, many products over the years suffering reactions at times because of my sensitive skin. The Power Essentials Bliss Facial Serum is the purest product I have ever used plus it has given me the best results. I now get compliments about my skin on a regular basis.


– Heather G., Nelson
 As an accredited aromatherapist and former maker of essential oil skin care products, I am absolutely thrilled with Power Essential's "Bliss Facial Serum". Truly nourishing and rejuvenating… it's now a part of my daily facial routine. A beautiful blend of the highest quality cold pressed and organic oils, my dry and sensitive skin has regained it's youthfully appearance… awesome!

- M.L., Salt Spring Is , BC.


I met you at the Salt Spring Saturday market in June and loved our conversation. I am so grateful that you introduced me to your Bliss Facial Serum! I LOVE it, I love the way it makes my face feel nourished, I love the way it makes my face look and feel healthy, I'm hooked! I just ordered two bottles even though there's still 25% left in the bottle. I plan to use it on my chest and hands too. I've spent many years racing sailboats in the sun and the wind, it's time, at 67, to take better care of my skin. with Gratitude and a big happy smile.

– Patricia Lalonde
Power essentials high quality facial serum was exactly what I was looking for. It leaves my skin feeling smooth & radiant. Personally, I use a half pump with a drop of water, this allows for smooth absorption and distinctly nourished skin. Best facial skin oil I've found.

- Heather V., Nelson BC